There is an existing myth that the cost of mbbs in Philippines is as high as studying MBBS in developed countries. The real fact is that mbbs in Philippines for Indian students is affordable compared to the colleges in the homeland.
Every Indian medical aspirant admires studying medicine abroad. The abundant opportunities help them grow as a doctor in foreign countries, especially in countries that support research-based studies. Another reason for the high demand for MBBS in foreign countries is due to the lack of medical seats in India. The humongous rise in population has added to the high demand for medical seats. Since more than 20 lakh students compete for some 70000 seats to fulfill their dream of becoming a doctor.
Even if students clear the NEET exam, there are lesser chances of securing the desired MBBS course in home country. In such scenarios, most medical aspirants prefer a foreign university to get the desired medical course. Due to the availability of more opportunities, an advanced syllabus, and suitable tuition fees, some medical colleges outperform the expectations of medical aspirants.
Cost of mbbs in philippines
In the Philippines, there are lots of opportunities. Students experience new things and interact with famous medical professionals. Due to the resources available there, students can attend worldwide conferences and activities that advance their knowledge. The cost of mbbs in Philippines remains the top factor that attracts a lot of International students.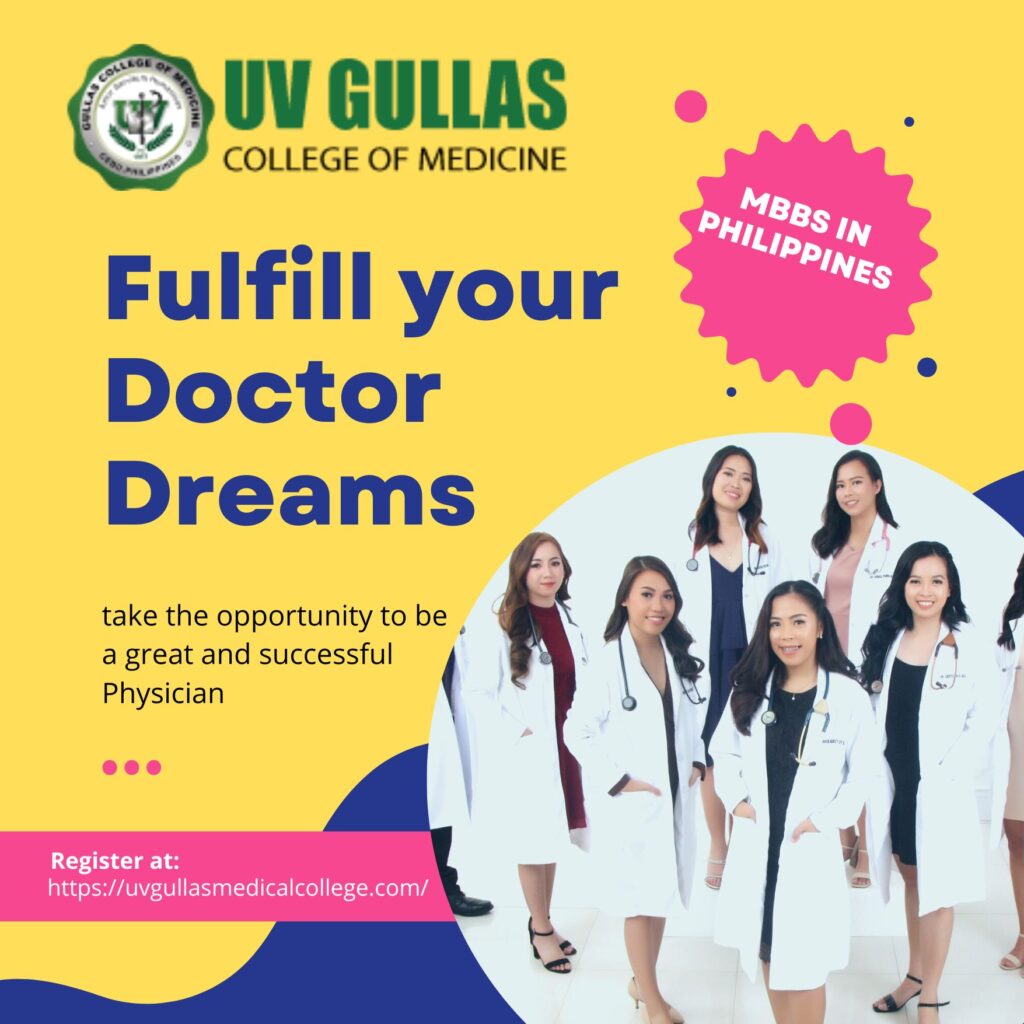 In India, many medical institutes lack the necessary infrastructure. Additionally, they lack modern technology that is nowadays employed in the medical field. High-tech tools are used in the classroom to aid in student understanding. Foreign countries, in contrast to India, have a strict prohibition on donations. For MBBS seats, most medical institutions require large donations in India. Most students end up paying lakhs of money to get a mere seat in a government college. Foreign medical universities are duly accredited to organizations with international recognition and limitless student opportunities.
The medical institutes in the Philippines, Nepal, Russia, Malaysia, Ukraine, etc. are recognized by the National Medical Commission (NMC). These medical institutes feature top-notch infrastructure, including research centers, fully digital classrooms, and high-tech laboratories. When compared to colleges in India, the expense of medical education is far more reasonable abroad. Students are exposed to expanded practical knowledge as they learn using cutting-edge technologies. Students benefit from better prospects and have bright careers. They develop both personally and professionally as medical professionals.
Benefits of Studying MBBS in Philippines
Since more than 20 lakh students compete in the NEET exam for some 70,000+ seats to fulfill their dream of becoming a doctor. The Philippines is one such country which is a hub for medical students. Being a growing country, the Philippines has a much less population and an abundance of MBBS seats for Indian students, that too at an affordable fee. The cost of MBBS in the Philippines remains much lower than tuition fees in any private medical college in India.
The UV Gullas College of Medicine offers a successful hospital clerkship course to assist medical students in becoming licensed physicians with thorough hands-on expertise. Students get to work in five prominent hospitals in the Philippines during the clerkship, which exposes them to a range of medical conditions that are similar to their own country. The opportunity to work with senior doctors makes it even more beneficial for students to comprehend patient demands and to learn to take proper care of the patients. 
Highly qualified teaching staff at the UV Gullas College of Medicine help students in learning and gain thorough expertise during the MBBS course. Universities in the Philippines have access to state-of-the-art teaching technologies. Most Indian medical aspirants have to spend a lot of money to get their degree, sometimes it reaches up to 50 lakhs to even crores. Meanwhile, the Philippines charges one-fourth of the fee for the same course with an advanced level of studies as well. Every year thousands of Indian MBBS aspirants come to the Philippines to fulfill their dreams of becoming certified doctors. 
High quality Education – Philippines MBBS fees
India has its own curriculum, whereas the Philippines' medical colleges use US-based curriculam or the American system of education. Instruction in the Philippines is conducted in English and no other language is utilized, there is no fixed language for instruction in India because each state has its own language. In the Philippines, there is one teacher for every ten students, but in India, there is only one teacher for every one hundred students due to the high population. Medical colleges in the Philippines place a greater emphasis on practical work and provide students with career training in clinics that will aid them in the future. 
The UV Gullas College of Medicine transforms MBBS aspirants into world-class doctors who serve the nation in an excellent manner. The college runs under the guidance of the University of Visayas, which has a legacy of 100+ golden years. The University has consistently produced top board test scorers over the course of a century and honored graduates who have achieved success in their chosen fields. Numerous colleges are affiliated with the institution. The UV Gullas College of Medicine is one such medical institution. The UV Gullas College of Medicine has drawn the most foreign students in the Philippines.
The UV Gullas Medical College comprises eight campuses. In Cebu City, there are two campuses: the main university campus is located in the city's central business district, and a laboratory high school is situated in the Pardo neighborhood. In Cebu City, the main campus is a six-story structure with a gym that spans practically an entire city block between Colon, D. Jakosalem, and Sanciangko Streets. The College of Dentistry and Nursing is situated in Mandaue City's Banilad neighborhood.
Indian students are given special consideration by the UV Gullas College of Medicine as they get ready for the FMGE Test. This guaranteed that the students obtained a license to practice medicine in their nation of origin. Any medical institution must have a modern lab with state-of-the-art tools.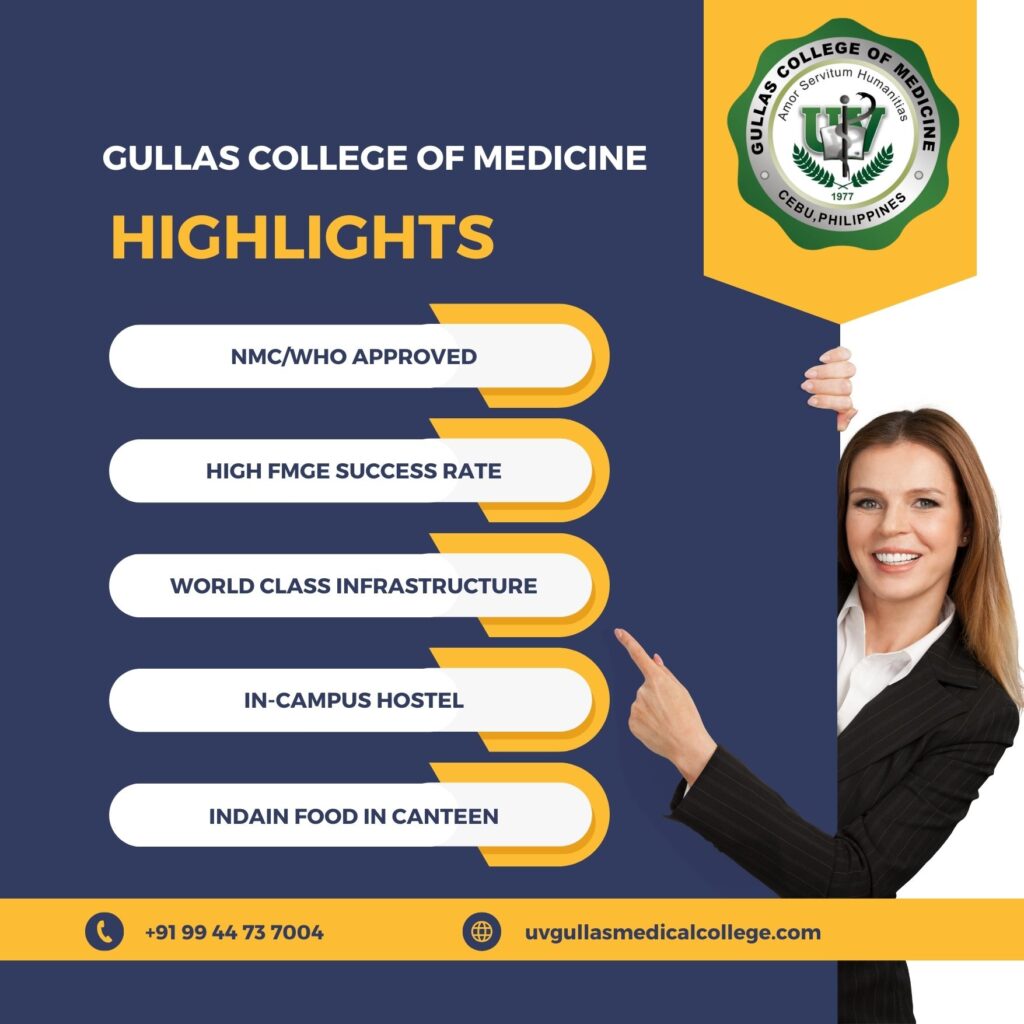 Each medical department has a modern laboratory of its own. Modern laboratories for the study of pathology, hematology, parasitology, transfusion medicine, immunology, bacteriology, mycology, virology, molecular technology, and genetics are present in the college. In the labs, the most recent Anatomage tables are available to aid visual comprehension. The visually enhanced practical sessions help MBBS students get a better understanding of the human body. 
In comparison to other countries, studying at the UV Gullas College of Medicine in the Philippines is significantly less expensive on average. The college ensures that everyone has access to the best education. The university also accepts payments of 3.00 lakh in two installments for the yearly tuition. This reduces the financial burden as such a facility is unavailable at medical colleges. The overall cost of education for the entire 5-year, 8-month course is 19.75* lakh Indian rupees. Philippines MBBS fees for Gullas college of Medicine is most recommended for low cost mbbs in Philippines.
Cost of MBBS in Philippines is affordable
The total cost of MBBS in Philippines for UVGCM, including tuition, housing costs, food, and other living expenditures, comes to about 38 lakh Indian rupees. This is much less than major countries and even India. Generally, MBBS fees for Indian students end up as high as 50 lakhs to crores. This creates financial distress for students and their parents. If the student wants to go to countries such as the UK, USA, and Australia, then the fee might reach up to 5 crores. Thus, the UV Gullas College of Medicine Philippines is the best medical college for an MBBS for Indian students.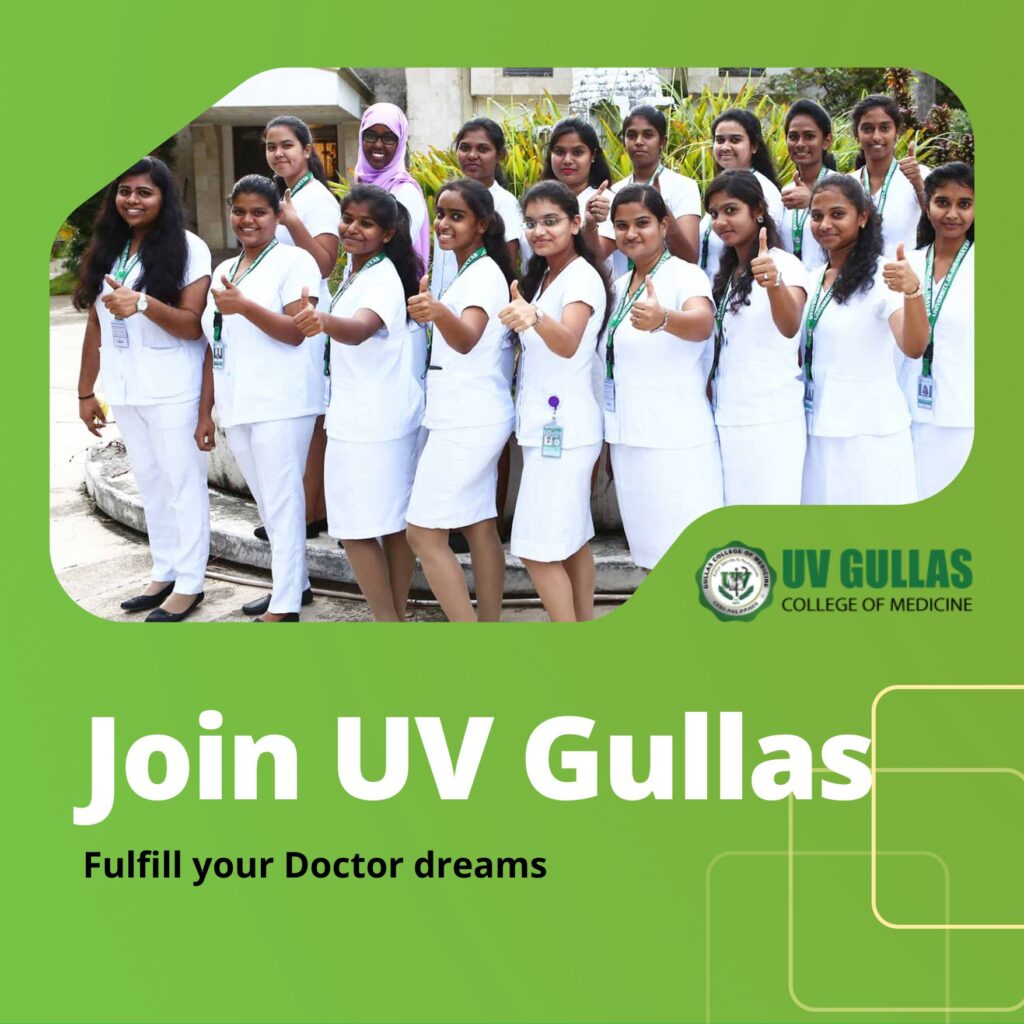 Hands-on practice with cadavers:
Cadavers are essential for learning the right things in an MBBS course. There are enough cadavers at the UV Gullas College of Medicine for students to have a thorough experience of the human body. It is advised by the WHO and NMC to use cadavers rather than plastic bodies.
A dedicated library:
A well-stocked library is a good indicator of an educational institution's caliber. For students and teachers, the UV Gullas College of Medicine Library provides a huge collection of medical books and journal articles. Students receive library cards so they can check out the books they want from the library. Over 2000 electronic publications, including the most prestigious journals in various medical fields, are available at the UV Gullas College of Medicine Library.
No new language to learn:
Since the classes are conducted in English, there's no need to learn any local language.
MBBS Internship opportunity:
There are 5 major hospitals that Indian students can visit during their final year clerkship, one of which is a government hospital connected to UV Gullas College of Medicine. Students deal with patients who are suffering from a range of ailments. This helps them obtain practical clinical expertise while getting direct contact with the patients. The best part is that students are permitted to help more experienced surgeons during major surgery, which aids in improving clinical knowledge.
These elements have distinguished the UV Gullas College of Medicine as the top program for Indian students to study MBBS in Philippines. The low tuition fee, authentic facilities, high exit exam pass percentages have made the college proud and helped students achieve their goal of becoming successful doctor.
Most overseas education consultants across the globe suggest MBBS in Philippines for their favorite students looking to study abroad. They are aware of cost of MBBS in Philippines from UV Gullas Medical college remains in the comfort zone for students looking for quality education. of The Philippines is the destination for your medical dream!